Last Updated on May 28, 2022 by Cynthia A. Rose
No wonder, you are thinking about buying a commercial meat grinder. But often people get confused during buying it because there are so many options to choose from. And if you somehow pick and buy the wrong one, no one but you will have to face the bummer.
So, it is certain that you are here reading this write-up for knowing about the best commercial meat grinder in the market. This is where I play my part. I'll make sure you can get the perfect commercial-grade meat grinder for yourself.
However, just in case you're in rush and you want me to choose a grinder for shortly, Kitchener Commercial Meat Grinder & Sausage Stuffer 1.5 HP 1080 LBS Per/Hr 550 Watts are the meat grinder you can get without any question. Though it will cost you a bit more than other grinders, trust me, it's worth it.
Quick Comparison – Best Commercial Meat Grinder
Product name
LEM Products 17801 Big Bite #12 .75HP Stainless Steel Electric Meat Grinder
STX Turboforce II "Platinum" w/Foot Pedal Heavy Duty Electric Meat Grinder & Sausage...
Kitchener Electric Meat Grinder Sausage Stuffer #8 1/2 HP 480Lbs Per/Hr 370 Watts...
KWS TC-12 Commercial 765W 1HP Electric Meat Grinder Stainless Steel Meat Grinder for...
Thunderbird Stainless Steel No.12 1 HP Meat Grinder, 115-volt, 60 Hz
Product Dimensions
15.7 x 12.2 x 20.9 inches
Top 10 Best Commercial Meat Grinder Reviews
I will be briefing you about commercial meat grinders which might benefit you as well. So, sit tight and let me walk you through this short tour.
1. Happybuddy Commercial Meat Grinder
Highlighted Features
Materials: Copper motor & stainless steel
Weight: 243kg/54lbs
Capacity: 375lbs/ 170kg
Size: 20.1*16.4*11.4 inches
Happy Buddy meat grinder is a beast with a 1HP motor. Hence, you will be able to grind up to 170kg of almost all kinds of meat into fine fragments.
Having a typhoon blade speed of 193/225 rpm; this meat grinder is also combined with 750 W with a 110V 60Hz power supply. Undoubtedly you can use this grinder for household and commercial use.
It has 4 plastic nozzles to hold the base firmly during grinding. Plus, it has a #22 head design for intense meat grinding and mega holding capacity. And, you can operate all these with just one power switch.
All the body parts of the grinder feature 304-level stainless steel construction providing you with maximum hygiene and easy-peasy cleaning cinch. Hence, this is 100% food-safe grinder is rated as the best commercial-grade meat grinder.
As the Happy Buy electric grinder has a spiral extrusion of low speed with a full-twisting force. You will be able to cut up meats into small pieces without disturbing their nutrients. Thus, getting quick ground meat will be easy as pie.
Liked:
Easy to operate
Completely made of stainless steel
Dual heat transmission
Large capacity
Quick ground beef and meal
Durable & steady
Disliked:
2. Pro-Cut Kg-22-W Meat Grinder
Highlighted Feature
Materials: Stainless Steel
Weight: 133lbs
Colour: Stainless steel
Power: 1HP motor
Frequency: 110V 60Hz
Capacity: 13kg/min (29lbs/min)
Dimension: 16.33*30.31*20.47 inches
The Pro-cut KG-22-W is a heavyweight meat grinder with a 1HP motor. With the grinding head #22, on the first grind, it can grind 29lb./min by 3/8″ plate. And on the second grind, it can grind 14lb./min by 1/8″ plate.
It has a powerful gear transmission that is oil-bathed; without belts or pulleys. It, thus, results in a noise-free and durable life.
This grinder has been manufactured for continuous daily life uses. It will take up a small area of your workspace since it has a very compact shape. Considering your safety, no sharp corners have been given to its body & headstock. Also, its head design features smooth sides for safer use.
Throat diameter measures a large at the top, and funnels provide for fast and easy feeding with no force needed. Also, the meat trays are easily removable for quick filling and cleaning.
A high-efficiency three-hole guard keeps hands out of the throat. The grinding plate is 3.25″ in diameter. New washer-less design reduces friction for faster grinding and low maintenance.
At the top, this grinder has a wide mouth opening. For making KG-22-W strong to supply you a corrosion-resistant, durable, and dynamic all the grinding parts of it are made of cast iron which is tin-plated.
It also comes with 12 grinding plates and a Kubbe attachment facility to prepare meats, beans, and whatnot! Hence, it is an all-around food processor.
And they all knock out washers to clean themselves. Thus, this grinder will sew up your maintenance cost. Furthermore, it comes with an enormous 1800lbs of meat girding power per hour making it the most powerful and largest commercial meat grinder on the list.
Liked:
Gear transmission
Easy dismounting
Leveling feet
Prominent power
Quick sanitization
Easy auger removal
12 grinding plates
Disliked:
3. LEM Stainless Steel Big Bite Meat Grinder
Highlighted features
Materials: Stainless Steel
Weight: 28.7lbs
Power: 0.5HP
Frequency: 120v 60Hz
Capacity: 7lbs/min
Big Bite meat grinder comes with a deep meat pan completely made of stainless steel. Plus, it has a long-drawn-out auger that pulls meat easily. So, you will be able to huddle larger meats into it and grind them easily. It also works fine as a pet food grinder for added versatility.
The motor of this grinder is lubricated by improved grease. And all the metal gears are built with roller bearings. Therefore, you will experience a noiseless action of the motor during chopping those gigantic pieces of meat.
To support you with extra storage capacity, a tray for a replacement knife and a tray for a plate have been attached to the body of the bone grinder. Plus, the head part has a spiral rifling pattern that pushes meat without longing for your effort.
This grinder comes with 3/16′ grinder plates with 3 sausage stuffing tubes. And all the parts of this grinder have high durability and prominent resistance power since they are made of stainless steel.
For your ease, this big pal has heavy-duty handles, so that you can easily move it to your desired location. Also, it is easily cleanable and maintainable thanks to its durability and simple design. All these easy maintenances and high-speed operation make it the best meat grinder for butcher shop.
Liked:
Built-in circuit
Lubricated gears
Massive capacity
Meat stomper
Noise Free motor
ETL certified
Lengthy auger
Disliked:
4. Kitchener Electric Meat Grinder
Highlighted Features
Power: 1 ½ HP
Wattage: 1100watt
Materials: Stainless steel
Capacity: 1080 lbs/hour
Dimateres: 23.8*10.9*18.3 inches
Kitchener commercial meat grinder has a gear-driven mechanism made of steel. Plus, air-cooled motor with low maintenance which makes the grinding capacity might. And it will give you a noiseless sleek grinding execution.
This grinder contains an induction motor of 1 ½ Hp (550W) making it possible for you to grind 1080lbs per minute. To go through a safe grinding process a circuit breaker is set up in this grinder. So spice up your grinding.
Kitchener grinder is a two-in-one appliance. It will provide you 4 sausage stuffing tubes to make a juicy sausage. Moreover, the powerful motor of this grinder has W/2 speeds. The Naming Forward includes Grind, Reverse, and Stuff. So, you should get the ground meat quality you always wanted with it.
This grinder supplies a heavy-duty grinder head design, auger, and a meat pan with a wide throat to place more meat. And all these apparatuses are made of stainless steel. Also, its safety features are reliable and pretty practical too.
Liked:
Robust motor
Large-scale grinding
Water-proof switch
Circuit breaker
Removal drawer
Meat stomper
Stainless steel instrument
4 sausage stuffing tubes
⅜ coarse
Cutting knife
Disliked:
5. Thunderbird TB-300E Meat Grinder
Highlighted Features
Materials: Stainless Steel
Capacity: 8-12lbs/minutes
Power: 1HP
Frequency: 115v 60Hz
Colour: Stainless steel
Weight: 25 kg
Dimension: 28 x 28 x 16 inches
As soon as you look at the meat grinder specifications you will know that Thunderbird is an ideal meat grinder for commercial use. It comes with a powerful 1 HP motor. The gears of this grinder are completely polished with grease & you won't need to stress about oil changing.
All the parts of the body starting from the pan, barrel, screw, storage drawer, and knife are made of high-quality stainless steel. Hence, it will be a long-lasting and durable grinder for you.
This grinder comes with several grinding plates. As a result, you will be able to craft different types of food with this multipurpose grinder. Also, it has space for Kubbe attachment to prepare various Arabian dishes.
Thunderbird meat and bone grinder comes with 2 Plates of 4.5 & 6mm. Plus, you will be able to grind the meat up to 8-12lbs per minute through a 3/16 inches plate on the first grind.
This grinding machine got approval from CE, NSF & ETL. Thus, it is a 100% food-safe meat grinding machine. Also, you will be getting pieces of meat retaining its natural flavor & quality.
Liked:
1 Hp motor
Stainless body
Energy-saving
Greased gears
Sausage stuffing
Disliked:
6. KWS TC-22 Commercial Meat Grinder
Highlighted Features
Materials: Stainless Steel
Weight: 73.2 pounds
Capacity: 485lbs/hour
Power: 1.5 HP
Color: Silver
Frequency: 110V/ 60HZ
TC-22 commercial meal grinder comes with a horsepower of 1 ½ HP to process any sorts of meat products. You will easily gain ground meat and sausage with this powerful grinder in no time thanks to its strong cutting blades and motor.
Featuring premium stainless steel construction, this grinder performs a long-lasting & durable function spontaneously. On top of that, this meat processing grinder is LFGB certified which means it gives food without harming its nutrients & ingredients. So, you will enjoy tasty meat with healthy benefits.
Plus, this grinding machine has two holes on the opposite side of the body to disperse heat. It protects the grinder from getting roasted and increases the lifetime of the machine. Therefore, you won't need to invest again & again for a new meat grinder.
With the powerful motor of this grinder, you will be able to grind 8lbs of meat per minute, which's equal to 485lbs per hour. Beef, chicken, or fish just feed them into the grinder's meat tray and they will come out as finely shaped pieces. Additionally, two grinder plates of 6mm and 8mm are available with the grinder. It's different-sized plates make the meat processing convenient and faster.
Liked:
Powerful motor
Dual heat emission
Steady
Meat stomper
Waterproof power switch
Stainless body
Easy cleaning
CE approved
Disliked:
7. Kitchener Elite Meat Grinder & Sausage Stuffer
Highlighted Features
Materials: Stainless steel
Capacity: 720 lbs/hour
Weight: 41lbs
Power: ¾ HP
Frequency: 120VAC/60Hz
Colour: Silver
Dimension: 18.7″ x 15.2″ x 15″ inches
The Elite commercial meat grinder is a multifunctional commercial grinder. It has Mixers, Sausage Stuffers, Slicers, Tenderizers, Meat Saws, and a new update Chicken Plucker. So, load it up with meats & prepare your favorite food keeping your chin up.
Implanted with a circuit breaker within, this grinder assures your safety. So, turn on the machine by pressing the waterproof power button. And you are ready to grind meat 8lbs per minute which means 720lbs per hour. Also, you can prepare pet food with its efficient grinding ability.
The Elite commercial grinder has an air-cooled motor for greater grinding performance. Plus, gear mechanized function to make it noise-free during the process. This super heavy-duty meat pusher plus grinder is made from rustproof stainless steel. So, start grinding meats without the worry of deafening sound & ruining your grinder machine.
The elite meat grinder has a king-size meat holding capacity; thanks to its broadened throat. Hence, crumple the meats without hurting your hand with the meat stomper provided by the grinder.
And you can easily manage the accessories that come with the grinder by the easily removable drawer attached to the body of the grinder.
Moreover, the grinder also has competitive pricing. Considering its high-end benefits, we do not doubt to label it as the best commercial meat grinder for the money. And once you use it, you will know we aren't wrong.
Liked:
ETL approved
3/4 HP motor
720lbs/minute
Corrosion proof
Power switch waterproof
Circuit breaker
Multifunctional grinder
Disliked:
8. STX Turboforce II"Platinum" Heavy-Duty Meat Grinder
Highlighted Features
Capacity: 175 to 225 Lbs/hour
Weight: 13 pounds
Power: 2000 Watts
Frequency: 110/120 Volts – 60 Hz
Colour: Black & White
Dimension: 17 x 8 x 12 inches
STX Turboforce meat grinder is a beauty with quality for both commercial and home use. This grinder comes with 600watt to 2000 output power with a safety circuit breaker. It has 3 types of speeding system – low, high & reverse. So, it enables you to grind a maximum of 225lbs meat hour.
The Platinum version of this grinder comes with 2 platinum meat claws. From now on, your hand will never get burnt while serving hot meat. You can even shred the hot juicy pieces of meats, slice the black-burnt meats into pieces with these claws.
This version also brings a massive food holder tray. This tray can hold up to 3lbs of meat. In addition, it also comes with a burger slider press to make the burger easily in fine shape. You can even move the burger to the oven or the freezer with the help of a transfer sheet that is waxed.
Introducing to you a new style of meat pusher, this grinder brings an easy operating switch. From now, just press the pusher by your thumb rather than grabbing sticky bundles of meat.
STX Turboforce heavy-duty grinder has a unique Quad air-cooling system that retains its quality no matter what storm it goes through. Thus, this grinder will process all the meats you put into it without ruining the quality of the product.
It also comes with a new Kibble attachment, 5 different grinding blades and replacement knife for perfect ground meat, and a sausage stuffing plate too.
Liked:
3-speed system
Circuit breaker
Air-cooling motor
Foot pedal
Quality safety features
Various grinding plates
1 button function
Easy to clean
Disliked:
Need extra grind capacity
9. KWS TC-12 Commercial Meat Grinder
Highlighted Features
Materials: Stainless steel
Capacity: 264 lbs/hour
Weight: 59lbs
Power: 1 HP
Voltage: 110V/ 60HZ
Color: Silver
Dimension: 15.7″ x 12.2″ x 20.9″ inches
TC-12 commercial meat grinder comes with 1 horsepower; it helps you to grind meat up to 4-5lbs per minute that is equal to 265lbs per hour. So, use this grinder for crafting ground beef or sausage for serving on any occasion.
This grinder has high-grade stainless steel construction making it super strong & durable. Its stainless steel material including the replacement knife and cutting blades makes it dishwasher safe. On top of that, it has earned a CE & LFGB certificate for its good sanitation system. Therefore, feel relaxed to use it for grinding, chopping meats the way you want.
KWS TC-12 commercial grinder has a handle attached to its upper part of the body; which will make it stable during grinding meats. Plus, it has two pipes to emit heat on the two sides of the body. Thus, making it last longer and extends its working life.
Liked:
Waterproof power switch
Easy cleaning
Dishwasher safe
Swiftly operable
CE certified
Two-way heat emission
Disliked:
10. Ensue Commercial 1100W Electric Meat Grinder
Highlighted Feature
Materials: Stainless steel
Manufacturer: Barton
Wattage: 1100W
Item Weight: 44.9 pounds
Color: Silver
Dimension: 20 x 17.01 x 11.5 inches
The Ensue commercial grade meat grinder is suitable for kitchen, company and restaurant use. This commercial food grinder works well to help in large-scale meat cutting. It is made of stainless steel construction to provide durable use.
The 1100-watts commercial meat grinder machine features an offset head design and a high speed. It provides efficient operation without making noise. The machine comes at a reasonable price and gives you high-quality performance.
Cleaning this professional meat grinder is easy. Its durability makes it a great option for commercial applications. The electric meat grinder is equipped with two stainless steel plates. You can grind different types of meat by simply changing the cutting plate.
Using this meat grinder is completely safe. It is made of food-grade stainless steel so it is safe for you and your family. Assembling and disassembling the grinder is easy for washing. Wash every part of the machine with soapy water after use.
Liked:
Easy cleaning
Quiet performance
Multi-purpose applications
Made of quality materials
Comes at a reasonable price
You get replacement blades
Easy assembling and disassembling
Disliked:
Read Extra Reviews
Weston (10-3201-W) Pro Series Electric Meat Grinders
Highlighted Feature
Materials: Stainless steel
Item Weight: 12 Pounds
Manufacturer: Weston
Size: (2 HP, 1500 Watts)
Color: Silver
Dimension: 24 x 10.9 x 20.6 inches
When looking for restaurant meat grinders or a commercial kitchen, the Weston model is a great pick. This machine can handle lots of meat without meat clogging. It has robust 2hp, 1500 strong motors that provide continuous grinding without stopping.
It features stainless steel grinders and gears that provide quiet performance and durability. The grinder has stainless steel cutting blades that provide efficient cutting. It also has a built-in knife sharpener to keep the knives sharp before you grind the meat.
This machine can cut chunks of meat up to 21 lbs per minute. Unlike manual meat grinders, it can cut batches of meat at a high speed. It has a rifle-head design and the throat is tapered so you don't need to use a tray guard.
This industrial meat grinder has a forward and reverse mode hence easy to grind tough meat. The electric meat grinder commercial machine is powerful enough to grind both frozen meat and fresh meat. It comes with a patented auger-grabbing stomper, stainless steel plates, grinder knife, storage tray, and sausage stuffer kit.
Liked:
It has a built-in knife sharpener
Can handle large meat pieces
Durable stainless steel body
Made of food-grade materials
Permanently lubricated motor
Non-slip rubber fit add stability
Sturdy handle for easy transportation
Disliked:
When operate need to care regarding temperatures
Weston Butcher Series #22 Electric Meat Grinder
Highlighted Feature
Materials: Stainless steel
Item Weight: 59.5 pounds
Manufacturer: Weston
Color: Silver
Dimension: 24.49 x 16.89 x 14.69 inches
If you need a professional meat grinder, get the Weston grinder. This is a large commercial meat grinder that can handle many cuts of meat. The electric grinder handles coarse grinding to give the desired outcome.
This grinder is built to serve you for many years. It has a permanently lubricated and air-cooled motor of 1HP. It provides the required grinding power for commercial applications. This meat grinder provides a smooth operation for a lifetime.
It provides high grinding speed and the steel gears offer silent operation. They are also rugged and durable. Removing the grinder parts is easy for effortless cleaning. The machine has nonslip feet that provide stable operation during the grinding process.
The grinder has stainless steel grinding plates that offer reliable performance. These plates come in the course and medium sizes. Transporting the grinder is easy in different places. It is equipped with a stable and sturdy carrying handle to make transportation easy.
Liked:
It is of great quality
It has a powerful motor
High-speed operation
Sturdy carrying handle
Grinds raw dog food perfectly
Easy to work with and clean
Operates under minimal noise
Disliked:
Giantex Electric Meat Grinder
Highlighted Feature
Materials: Stainless steel
Capacity: 396lbs/hour
Motor Power: 1100W
Voltage: 110V/ 60HZ
Color: Silver
Dimension: 18″ x 10.5″ x15″ inches
This meat grinder comes with 1.5 HP and 1100W power. It has also been made from food quality materials so that after menacing meats, you can have healthy and nutrient-rich food. With its anti-corrosive & strong quality; you will always have a safe meat grinding experience.
Giantex meat grinder has a copper wire running all the way within it. It gives it a power of 1100w and 1.5HP horsepower. As a result, this grinder can grind the meat up to 396lbs/hour.
With its easy disassembling function you can easily clean it inside out. Plus, you will be able to wash it in the dishwasher.
This grinder will hand over to you 2 different blades for cutting and 2 different plates. Whatever you want to do with your meat – grind them or coarse them for stuffing, this meat grinder is ready to do it perfectly. You can also use it for fish, wheatgrass even peeper. Play with it, the way you want.
Liked:
Anticorrosive
Long-lasting
Multifunctional
Non-toxic materials
Dishwasher safe
Power switch
Disliked:
Things to Consider Before Buying a Commercial Meat Grinder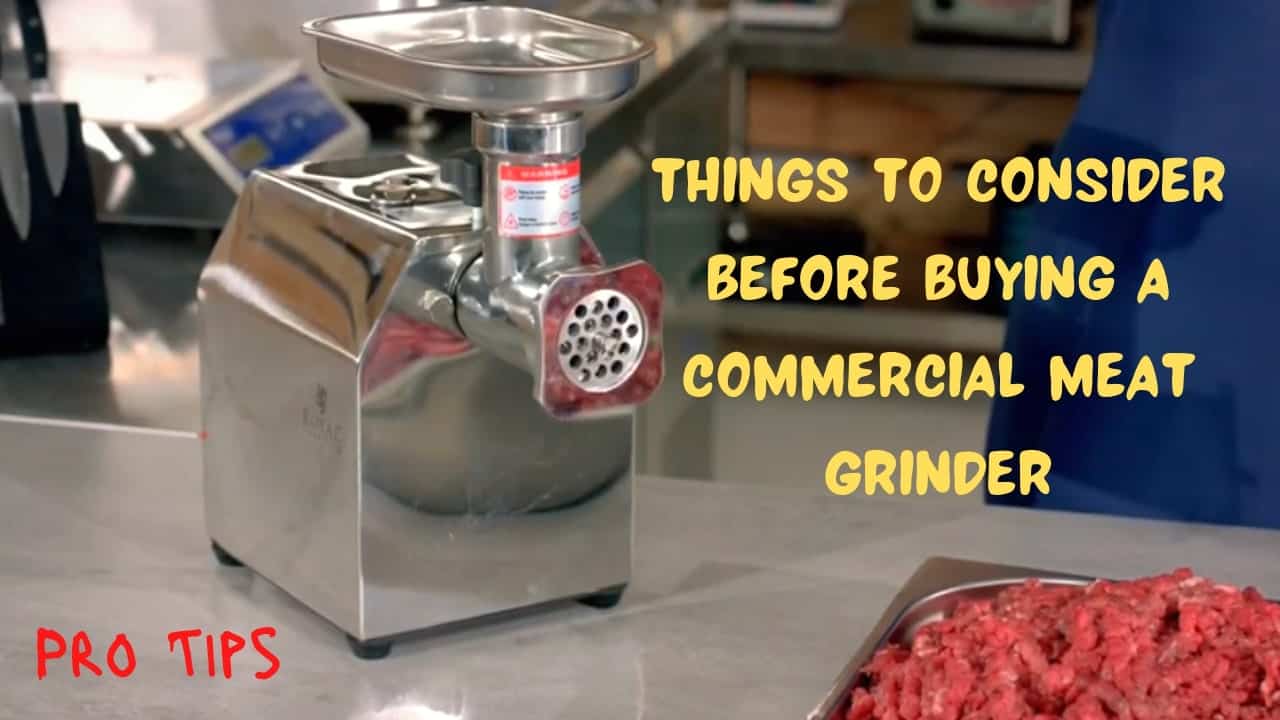 There are many factors to look out during buying a meat grinder. But out of them some of the factors must be pitched in the grinder you wanna buy.
I will be describing the best commercial meat grinders below those points for your concern.
Power
It is the most important feature you look for in a grinder. The more power a grinder has, the more grinding in a short period. They come in high power, medium power & low power. So choose yours according to your needs.
Nonetheless, be aware of the fact that higher power means higher electricity consumption too. Also, it will have more vibration. So, make your decision wisely.
Productivity 
It is defined as how much meat can be grinned per minute. But productivity may vary from model to model. Each model with different power may produce different amounts.
The productivity of the grinder is linked with its rotation speed. For high-speed production, you may want a higher-powered motor too.
Reverse Function
Many people underestimate this feature. But it's quite important for grinding machines. If by any chance ligaments or bones or tendons get stuck in the grinder, the blade of the grinder may get damaged soo. Without this reverse function feature, you will have to stop the grinder and start over again. But having reverse features allows the auger to move in reverse losing the tendons in the grinder.
Body Materials
Last but not least. It is very important to monitor grinder manufactured materials. Usually, grinders come in three materials named plastic, metal & composite materials made of metal and plastic.
Plastic-made grinders are the cheapest of all and also, highly portable. But it lacks durability. The metal grinder can withstand higher power and workload but may be a touch expensive. The composite grinders sit between the other two options and bring benefits to both sides.
Finally, Best Practices For Choose The Commercial Grade Meat Grinders
When you are in the market for a commercial-grade meat grinder, there are some key things to look for to ensure you are getting the best product for your needs. Here are five tips to help you find and select the best commercial meat grinder for your business:
The first is the size of the grinder. You'll want to choose one that's big enough to handle the amount of meat you plan to grind on a regular basis.
The second factor is the type of grinder. There are two main types: manual and electric. Manual grinders are operated with a hand crank, while electric grinders run on electricity. Both types have their pros and cons, so you'll need to decide which is best for your business.
The third factor to consider is the quality of the grinder. Not all meat grinders are created equal. You'll want to choose one that's made from high-quality materials and has been built to withstand heavy use.
The Fourth consider the type of meat you will be grinding. Not all meat grinders are created equal – some are designed specifically for beef, while others can handle a variety of meats, including poultry and fish. Choose the right one for your needs to ensure optimal performance.
The Fifth look at the horsepower rating. The higher the horsepower rating, the more powerful the meat grinder will be – and the faster it will be able to grind up your meat. If you will be grinding large quantities of meat on a regular basis, be sure to choose a model with plenty of horsepowers.
Frequently Asked Questions (FAQs)
What type of grinder should I buy?
Actually, it depends, suppose you want a grinder for the household kitchen. You won't need an expensive super powerful grinder rather just an average grinder shall work for you. But an average grinder will be a disaster if you plan to use it in a restaurant.
For how long should I grind meat?
According to the power and productivity of your commercial grinder, you should grind the meats. Also, it partially depends on the quality of meat, sizes of meat & quantity of meat.
Is it hard to clean up the grinder?
Some grinders are made of stainless steel. As a result, they can be washed in the dishwasher without any trouble. On the contrary, other grinders are not dishwasher safe due to their manufactured materials.
Will I have a hard time using a meat grinder?
Not at all. Only if you know how to use a meat grinder correctly, it will be very easy for you to assemble it and operate it.
Wrapping Up!
Finally, you are here. I hope you have gone through all the details given above & already selected the best commercial meat grinder you want to buy. So, roll up your sleeves and buy the desired commercial meat grinder in no time for large butcher shops and even home use, if need be.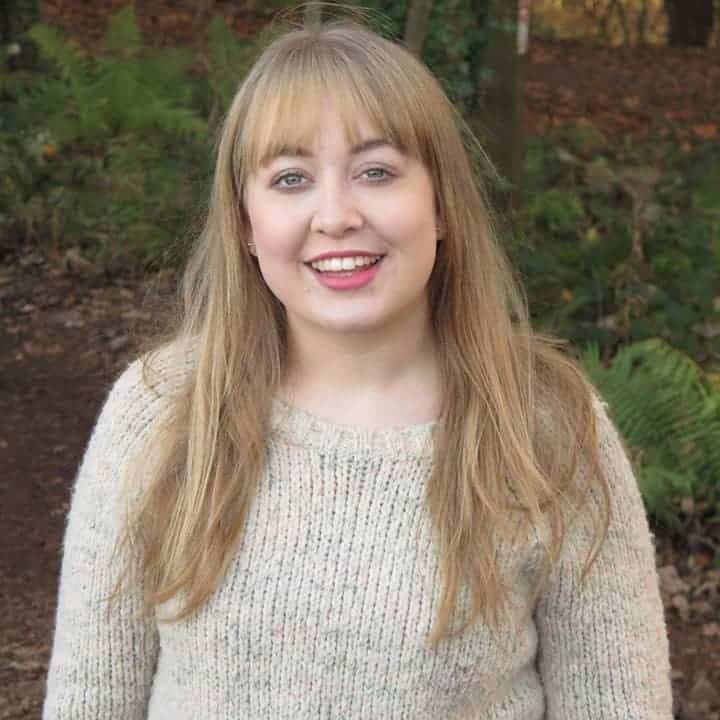 Hi, this is Cynthia A. Rose. Welcome to my Grinder related blog. Usually, I am busy with my kitchen and cooking all day. My main desire is to create a new recipe every day. But I have to use new tools every day to create new recipes. In this blog, I will share you how to use kitchen tools properly. I will not just share cooking related equipment, I will try to review all kinds of grinders like angle grinder among you. I hope my 12 years of experience will come in handy. Thanks!