Last Updated on April 4, 2021 by Cynthia A. Rose
With the springing up many angle grinders in the market, it can be challenging to choose the right power tool. Owning the best 7 inch angle grinder is necessary for cutting through rigid material. These tools are highly versatile to perform a variety of applications.
We refer to them as 7-inch angle grinders because of the grinder disc size; others come with disc sizes like 4.5 or 5 inches. These two categories are mainly used for home projects, while the 7-inch ones remain suitable for professionals. Now you can notice that the decision-making process can be both frustrating and overwhelming without a complete guide.
Our Top Picks
Best for demanding cutting and grinding applications: DEWALT (DW840K) Angle Grinder
The tool's power-to-weight ratio is high, and it has an adjustable guard, rear handle design, and spindle-lock button. It's associated with an excellent 7-inch angle grinder price.
Best for fastest: Makita GA7021 Angle Grinder
The 15 Amp motor is excellent to produce up to 6600 revolutions per minute. The spiral bevel gears, 3-position adjustable side, handle, rubberized handle grip, tool-less wheel cover makes the model more convenient.
Best for comfortable: DEWALT (D28499X) Angle Grinder
Five-position side handle, auto turn-off brushes, keyless adjustable guard, and epoxy coated armature and field make it outstanding.
Best for finishing and deburring: Hitachi G18ST Angle Grinder
The 3950W output power, halved stator cooling mechanism, overload durability, armored coils enhance precise touches.
Best for Budget-friendly: DEWALT (DW840) Angle Grinder
Despite its affordable price, you benefit from many features like a single-wrench, adjustable guard, spindle-lock button, and robust motor.
Best for innovative technology: Bosch Large Angle Grinder
The service minder light will always notify you when to carry preventative maintenance. Besides, it has optimized speed, vibration control, and a robust power-to-weight ratio.
Best for versatile: Makita GA7031Y Angle Grinder
Apart from quick material removal, the device suits most grinding and cutting operations. The labyrinth construction and an AC/DC switch are other excellent features of this tool.
1. DEWALT (DW840K) Angle Grinder
Key features and specifications
0 Amp AC/DC motor
8000 rpm
High power-to-weight ratio
Adjustable guard
Rear handle design
Spindle lock button
Brand: DEWALT
Weight: 18.71 pounds
Dimensions: 5.75 x 21.44 x 12.38 inches
Voltage: 120 volts
Power source: electric-powered
DEWALT never disappoints when it comes to superiority and high performance. One of their power tools finds its way on our today's 7-inch angle grinder reviews not only because it deserves, but also as the most comfortable to use 7-inch angle grinder out there. I have been using various tools and accessories from the Company, and I can attest they are incredible.
To certify the above statement, below are some of the unique features you're likely to get in the machine. These elegant features set the grinder far from its competitors in the market.
Powerful motor
The motor is the heart of any power tool, meaning that the power the device's higher the motor rating. For this reason, the manufacturer coupled DEWALT (DW840K) with 13.0mp AC/DC powerful motor.
It can comfortably deliver up to 8000 revolutions per minute, providing enough speed and power to handle any 7-inch metal cutting and grinding application.
Adjustable guard
Many users like the keyless guard mechanism as it makes the tool more straightforward to use. With this feature, the machine offers tool-free adjustment for its operators. Adjusting the guard, therefore, allows the device to drive aways sparks from your workplace.
Comfort
Experts understand the advantages of high power to weight ratio. The device isn't that heavy but provides robust management. Hence, it reduces fatigue, making it more efficient even after more prolonged use.
You will not feel any pinch while using the device because it's ergonomic. DEWALT (DW840K) boasts a rear handle style for enhanced control and comfort.
Multiple accessories
DEWALT (DW840K) comes with additional accessories for versatility. Some of the extras include; clump nut, wheel wrench, backing flange, among others. All these make the device outstanding.
Durable
The sealed roller and ball bearings are essential mechanisms for extending the tool life. The machine will serve you for a while before going for a replacement.
2. Makita GA7021 Angle Grinder
Key features and specifications
15 Amp angle grinder
6600 rpm
Rubberized soft grip handle
Rea trigger switch
Tool-less wheel guard
Large rubber tool rest
3-position adjustable side handle
Spiral bevel gears
Brand; Makita
Weight: 15.4 pounds
Dimensions: 21.25 x 9.25 x 7 inches
Voltage: 120 volts
Power source: electric-powered
If you are looking for a powerful angle grinder for quick stock removal then, Makita GA7021has got your back. Yes, whenever you see Makita Brand, think of a powerful motor for high performance.
Below are unique features that you will find in Makita GA7021. These features assure comfortability, extending tool life, and easy to use.
Powerful motor
Makita GA7021 couples a 15 Amp motor that produces 6600 revolutions per minute for quick stock removal. This combination is excellent, meaning that the tool has enough power for heavy-duty tasks or the most demanding projects.
Labyrinth construction
One of the best features of this machine is the unique construction. The technology completely protects the motor from external contaminants. The labyrinthine building, therefore, extends the tool life; it's durable.
Ergonomics
Comfort is what you need while operating any power tool. This 7-inch angle grinder is equipped with a lot of comfort features like a rubberized grip handle. Such a part is exciting in protecting your hands from fatigue resulting from more prolonged use and vibration.
More so, the machine comes with a 3-position adjustable side handle to enhance operator convenience. Adjust and operate it based on where you're standing.
Safety features
Another reason why we recommend the machine is the available rear trigger switch. The switch is equipped with a lock-on mechanism for automatic shuts. It ensures you are safe whenever the tool is dropped accidentally; Makita GA7021 is convenient.
Smooth operation
You need a device that is easy to use for smoother operation. For example, Makita GA7021 features a more significant rubber tool rest, helping protect your workpiece from damage.
Besides, the spiral bevel gears are essential for more efficient energy transfer and smoother operations. Also, the tool-less wheel guard enhances easy and quick adjustments.
Accessible brushes
You can easily access these brushes externally for quicker replacement or serving. Such encounters promote more excellent serviceability; it doesn't matter whether you're an expert not.
3. DEWALT (D28499X) Angle Grinder
Key features and specifications
Keyless adjustable guard
Epoxy coated armature and field
Auto turn-off brushes
Five-position side handle
3HP powerful motor
6000 rpm
Brand: DEWALT
Weight: 16.37 pounds
Dimensions: 10.13 x 24.25 x 5.06 inches
Voltage: 120 volts
Power source: Electric powered
Here is another heavy-duty angle grinder from the DEWALT brand. You can use it to perform various 7-inch or 9-inch cutting and grinding applications. It comes with a lot of elegant features to excellently handle the job at hand.
These features enhance comfortability as well as excellent performance. Besides, DEWALT (D28499X) long-lasting due to the strong materials used to manufacture it. Let's look at some of the valuable features that make the tool the best 9-inch angle grinder.
Powerful motor
For an angle grinder to cut through the most rigid materials and surfaces, it requires a powerful motor. For this reason, DEWALT (D28499X) boasts a 5.3HP max motor that delivers up to 6000 rpm.
Besides, the motor features a superior overload protection that provides outstanding speeds under load. This art helps the tool to efficiently and comfortably tackle more extensive or demanding jobs.
Epoxy coated armature and field
Invest in a long-lasting device and forget to visit the power tool shops regularly. DEWALT 7-inch angle grinder features epoxy armature and field, protecting them from harmful debris.
The mechanism ensures the tool's life is extended by protecting its components.
5-position side handle
This is another reason experts affirm DEWALT (D28499X) to be the best on the market. Five-position side handle design provides additional control and comfort that you need to accomplish a specific job.
Yes, you can adjust the tool position in five different angles based on the type of job you're handling.
Auto Turn-off brushes
Reduced accidents and tool damages are what the machine is associated with. The feature is essential in automatically shutting down the engine whenever a replacement is a need. So, your device is protected from unnecessary damages.
Keyless adjustable guard
You don't need to use any tool when adjusting the guard. It's straightforward as you only have to use the keyless guard. Such a feature is significant in increasing the ease of operation, productivity, and maintenance.
4. Hitachi G18ST Angle Grinder
Key features and specifications
Labyrinth construction
Armored coils
Overload durability
Detachable side handle
3950W output power
15 Amp angle grinder
Halved stator cooling design
Brand: Hitachi
Weight: 10.78 pounds
Dimensions: 1 x 1 x 1 inches
Voltage: 120 volts
Power source: electric-powered
If the above options fail to satisfy your requirements, then Hitachi G18ST is the choice. The 7-inch angle grinder assures you of excellent output power, more durability, higher performance, and lighter weight.
The machine is the best for finishing and deburring aluminum, iron, and bronze surfaces. Besides, you can use it for grooving stone materials and cutting soft steel materials. In short, Hitachi G18ST is highly versatile.
Powerful motor
The machine boasts high performance due to the 15 Amp powerful motor. The engine comfortably produces 8500 revolutions per minute for any grinding application.
You will therefore accomplish a particular job in the efficient and fastest way. The tools pump enough energy to tackle a given position, either cutting, grinding, or grooving.
Labyrinth construction
The manufacturer coupled Hitachi G18ST with a labyrinth construct to protect the internal parts from external contaminants. The mechanism ensures the bearings and motor are free from debris and dust, thus prolonging the tool life.
Furthermore, armored coils are covered by long wedges, protection tape, and varnish to extend the tool's lifespan. It achieves this by hindering the small grinding debris from penetrating in.
On the other hand, the class-leading overload durability enhances reliability and extends the tool's life.
Halved stator cooling design
This feature is unique and essential in ensuring excellent motor durability and creating remarkable cooling efficiency.
Lightweight design
You need improved control and operate at reduced fatigue. Hitachi G18ST, therefore, comes with a compact design so that you feel comfortable to use while working. You will not get tired quickly, even after working for long hours.
Additional features
You can remove the side handle and place it either to the right or left of the machine for convenience. The art makes the angle grinder suitable for both left-handed and right-handed operators.
Besides, accessing the carbon brushes is straightforward externally, hence promoting quick and short maintenance. Moreover, Hitachi G18ST features a significant spindle lock, allowing you to change the grinder disc easily.
5. DEWALT (DW840) Angle Grinder
Key features and specifications
13 AC/DC Amp motor
8500 rpm
Adjustable guard
Spindle-lock button
Single-wrench
Brand: DEWALT
Weight: 8 pounds
Dimensions: 21.5 x 8.88 x 4.38 inches
Voltage: 120 volts
Power source: electric-powered
Don't struggle with low-class 7-inch grinders anymore because here is another beast from DEWALT. It represents impressive technological advancements, making it highly dependable for handling serious cutting and grinding applications. It doesn't care about the job you're planning to do; again, it's the beast.
Since it is a medium tool, you can easily access hard-to-reach spaces. Its power is also outstanding, promoting high and smooth performance.
Powerful motor
The 13 Amp motor is just enough to pump enough power for handling even the most demanding jobs. The engine can incredibly deliver up to 85000 rpm for non-stop operation. This combination also allows the machine to cut through a material at a very high speed.
Dual-abrasion protection
For motor protection, DEWALT (DW840) is equipped with dual-abrasion protection for preventing the tool from ingested, damaging dust and debris. Such a feature is appropriate to ensure the device lasts longer in service. In short, it is durable enough to withstand demanding jobs.
Keyless-adjustable guard
It's possible to improve the machine's productivity using the adjustable guard. The feature allows you to exert a little energy to handle a given job. The device works perfectly for excellent results and productivity.
Dust ejection system
This power tool from DEWALT is equipped with a dust ejection mechanism that contributes to the motor durability. It achieves this by directing out the debris and dust via the air intake vent. Some of the particles might be harmful when they penetrate the engine.
Besides, the system ensures your workpiece is clean, free from dust and debris.
Comfort and gear control
The rear handle is specifically designed to provide greater control and comfort. You feel great while working with DEWALT (DW840) in your hands. Such a combination is necessary to achieve perfection with every grinding and cutting.
6. Bosch Large Angle Grinder
Key features and specifications
15 Amp motor
Rattail handle design
Anti-vibration mechanism
Powder-coated epoxy and stator
Tri-control switch
Service minder
Brand: Bosch
Weight: 13.8 pounds
Voltage: 120 volts
Power source: electric-powered
Bosch power tools are famous for delivering fantastic reliability and performance that lasts. They are changing the meaning of being innovative. This's exactly what you expect to get in Bosch 1974-8 angle grinder. It's ultra-efficient with a vibration control technology that makes it outstanding in the market.
On top of that, the tool is large but lightweight, designed with a powerful and robust motor. This is why the machine is on our list; most operators enjoy using it because of the following features.
High performance
Bosch 1974-8 angle grinder features a 15 Amp AC/DC motor that pumps up to 8500 revolutions per minute. Besides, the tool is lightweight, weighing only 11.4 pounds. It, therefore, gives you a remarkable power balance to the size and weight available.
Yes, Bosch 1974-8 angle grinder guarantees excellent power under the lowest weight.
Controls
With its durable design, maneuvering and controlling the Bosch 1974-8 angle grinder is easy. Its trigger is convenient, especially with a tri-control switch. The switch features a lock-off and lock-on capability.
The design, therefore, spares you from accidental startups. More so, such a strategy is essential in enhancing a more ergonomic operation.
On the other hand, removable brush covers are great to allow you to replace a brush easily.
Adjustable guard system
This machine from Bosch Company couples an excellent adjustable guard mechanism to quickly adjust and lock in place for max component protection. This art also prevents you from contracting minor injuries while working.
Epoxy-coated field windings
For max protection from metal dust and debris, this large angle grinder is equipped with an epoxy-coated file. This feature protects it from abrasive debris and dust from penetrating the engine.
Anti-vibration features
There are a lot of ergonomic features like rat tail handle design to spare your hands from vibration. Since vibration can lead to fatigue, Bosch 1974-8 angle grinder has everything to allow you to work for an extended period.
7. Makita GA7031Y Angle Grinder
Key features and specifications
15 Amp motor
8500 rpm
Labyrinth construction
Tool-less wheel cover
Zig-zag varnish
Spiral bevel gears
Brand: Makita
Weight: 13.5 pounds
Dimensions: 24 x 7 x 8 inches
Power source: electric-powered
Voltage: 120 volts
Last but not least is another tremendous 7-inch angle grinder from Makita Company. Makita GA7031Y assures excellent motor protection and ease-of-use features. Yeah, this is necessary to ensure the tool lasts longer, giving a superior performance for your industrial and commercial tasks.
Let's explore some of the unique features one should expect to benefit from this 7-inch angle grinder.
Powerful motor
Like other high-class models, Makita GA7031Y boasts a 15 Amp motor that can produce up to 8500 rpm comfortably. This assures you of faster stock and excellent finish when grinding, polishing, or sharpening up surfaces.
Labyrinth construction
The machine features an incredible labyrinthine construction to reduce debris and dust from entering the bearings and motor. Therefore, such a feature prolongs the lifespan of the tool; you will use it for decades. It enhances the machine's durability.
Protective zig-zag varnish
Another exciting feature that I guess you need to hear about Makita GA7031Y is the protected armature. The zig-zag varnish protects the component from external contaminants.  It achieves this by creating a wire mesh barrier, mainly to hinder small grinding pieces from getting into the motor.
Comfort
It comes with many ergonomic features for maximum comfort while in operation. For example, the rubberized handle is ergonomic enough to reduce vibration. Besides, you can install the handle in your desired tool side to reduce fatigue.
Tool-less wheel cover
This is another fantastic feature that makes the Makita GA7031Y outstanding. The mechanism allows you to quickly and comfortably adjust the guard without the help of any tool. Such adjustments are essential to achieve multiple cutting and grinding angles.
Spiral bevel gears
For smooth operation, Makita GA7031Y has spiral bevel gears for more efficient energy transfer and smoother operations.
Accessible brushes
You can access the brushes externally for quick and easy serviceability. You don't want to dismantle the whole unit when it calls for a replacement; No, just do it from outside.
Factors to Consider Before Buying Best 7 inch angle grinder
Let's drive home the nail with this guide if you still hold doubts. These parameters are necessary to land to the right 7" angle grinder.
Speed
The speed of any power tool plays a vital role in enhancing the machine's performance and effectiveness. Most experts prefer using a model with a high rate because it's hard to separate quality from power.
The faster the wheel spins, the better the ground for excellent precise cutting. Models with such readings impress many users. For this reason, you will meet different angle grinders with variable speed. So, choose a model that allows you to adjust speed to accomplish various grinding and cutting activities.
Comfort
Newly introduced angle grinders come with different features to emphasize the control and comfort level. Like doing any task, you produce better and precise results when you have the tool's maximum. Therefore, when buying a suitable 7" angle grinder, you need to consider those with many ergonomics.
Rubberized handles that can change position are the main feature that you expect in the best angle grinder. You can adjust such machines to fit your standing position. Hence fatigue is reduced. A tool that fits your hands comfortably can allow you to achieve the best cutting and grinding results.
Safety features
Safety features are another parameter that determines whether a tool is the best or not. One should opt for machines with multiple features for their safety and the tool's longevity.
Such features prevent you from injuries by stopping the motor during accidental startups. Such messes are dangerous, and if not careful, you can end up with injuries; when using a low-class angle grinder.
Durability
The material used to manufacturer a separate 7-inch angle grinder plays a critical role in determines the tool's longevity. Is the machine long-lasting? This is one of the few questions you should be asking yourself before paying for a separate grinder.
Some of the above models feature robust materials, i.e., labyrinth construction, while others plastic casing. Therefore, machines with labyrinthine buildings ensure the tool's internal parts are fully protected from external contaminants.
Dust ejection system
If not careful, sometimes you might end up with tons of debris in your eyes. When choosing a suitable tool, consider the mechanism since it is ideal in driving out waste and dust from your workplace. Besides, the workpiece will be clean, free from dust particles.
Experts recommend investing in 7-inch angle grinders with an air intake vent to allow out debris and dust.
Frequently Asked Questions (FAQs)
What are some of the safety techniques to abide by when using an angle grinder?
You must clamp the workpiece to secure it in one place. You also need to ensure the blade you're using is long-lasting and the device works under a reduced noise level.
You also need to put on necessary clothing like an apron, welding goggles, and gloves. Besides, coves your legs with robust boots to prevent you from sharp objects.
What should I do when using an angle grinder properly?
First of all, you need to clamp the workpiece and don't keep the tool spin on the object's edge. Doing so will prevent the tool from kickbacks.
More so, you don't have to exert more pressure when sharpening objects like knives.
Can I use a 9 inch grinding wheel on a 7 inch angle grinder?
Of course, some are versatile to accommodate both 7 inch angle grinder wheels and 9-inch. However, you need to much careful with the speeds of the devices. Else, you might experience premature wheel cracks.
Final words
An angle grinder remains an effective tool that a contractor should not lack in his/her arsenal. However, finding the best 7 inch angle grinder can be frustrating due to multiple choices out there. It would help if you considered various things like reliability, speed, ease of operation, maneuverability, etc., to bag home a great tool.
Since getting the best machine is difficult, your daily cutting and grinding activities play a vital role in making the right decision. Angle grinders in the above list come with unrivaled suitability and performance for multiple applications.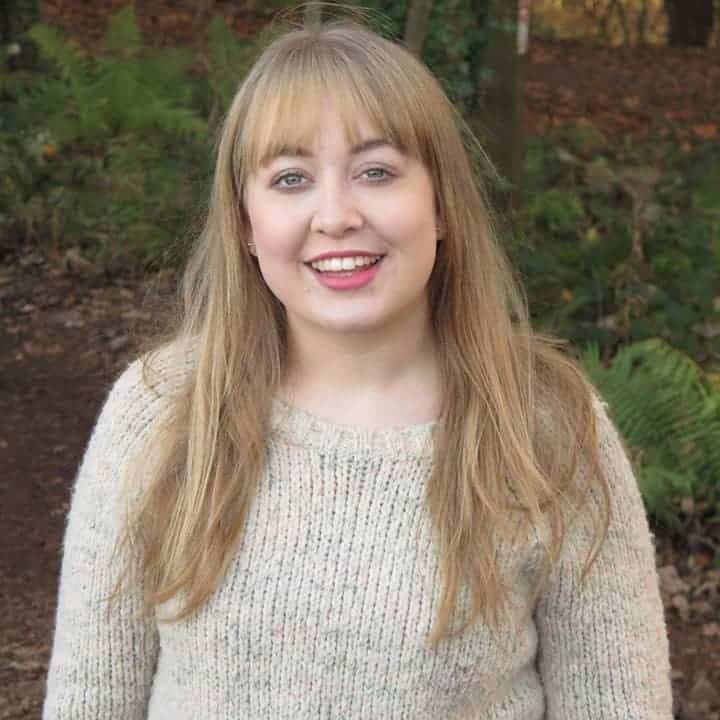 Hi, this is Cynthia A. Rose. Welcome to my Grinder related blog. Usually, I am a housewife. I am busy with my kitchen and cooking all day. My main desire is to create a new recipe every day. But I have to use new tools every day to create new recipes. In this blog, I will share you how to use kitchen tools properly. I will not just share cooking related equipment, I will try to review all kinds of grinders among you. I hope my 12 years of experience will come in handy. Thanks!